North Carolina police are investigating the possible suicide of an Army veteran charged with shooting her service dog as she laughed.
Fayetteville Police Lt. Todd Joyce said Sunday investigators believe that 23-year-old Marinna Rollins killed herself.
Joyce declined to explain what evidence detectives found. He says police were called to her apartment early Sunday around 3am after her body was found by friends, who were having trouble contacting her.
Rollins and her 25-year-old boyfriend Jarren Heng were charged last month with cruelty to animals after investigators say they tied the dog to a tree and shot it multiple times with a rifle.
Cumberland County District Attorney Clark Reaves said the two could be heard laughing on a video recording they made as the dog was killed. That video was later posted to Facebook.
Rollins' suicide comes just nine days before the two were scheduled to appear back in court. Animals rights activists had scheduled a protest for outside the courthouse the day of the hearing, May 16.
Court documents show Rollins received a medical retirement from the Army in January.
Her family and friends say she struggled with Post Traumatic Stress Disorder after a traumatic experience while serving in South Korea.
The video then seems to show Rollins dragging the dead dog's body around before burying him in a shallow grave.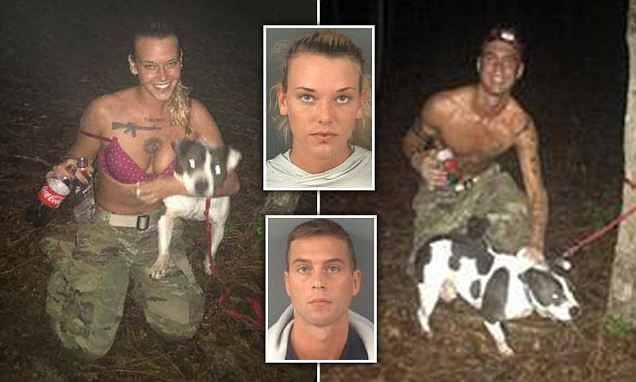 'Kind of put him a little deeper,' Heng then appears to say.
The Cumberland County Sheriff's Office and Cumberland County Animal Control said they found multiple videos of the killing and also text messages talking about it.
A Justice for Cam Facebook site sprang up almost immediately, and a screen grab purporting to be from Rollins' Facebook page shows someone who appears to be Rollins saying 'Great last day with the pooch! Sad he has to go, but he will be much happier where he is heading off to :)'
When confronted by Animal Control officers after the killing, the couple said that the dog cost $75 a week to feed and had some health issues.
Heng was serving in an Army Special Operations Command Unit at the time of his arrest.